11.13.20
The IRS has just released the 2021 benefit plan limits and thresholds. Some items included in this release were announced earlier this year, including an increase to the annual HSA maximum contributions and a $50 increase to the rollover allowance for Healthcare FSA plans.
One notable change is a slight increase to the out-of-pocket maximum amounts allowed for High Deductible Health Plans.
However, unlike in recent years, the FSA and Commuter benefit contributions maximums will not be changing for 2021.
Here's a look at some of the other important limits: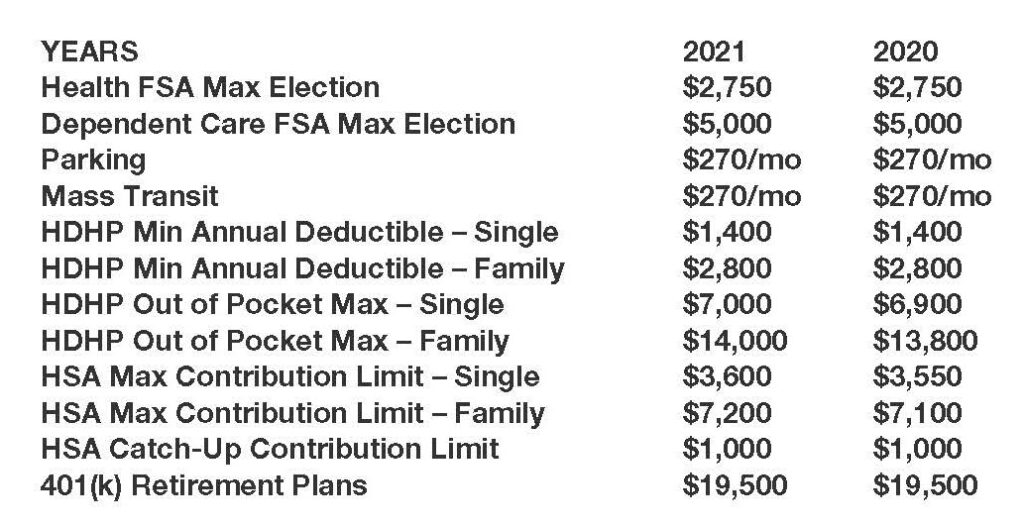 The lack of changes puts employers in the position to focus on HSA and FSA education and selling the benefits of these tax savings vehicles to employees. If you have questions about this update or need expert help, contact our team.
The information provided here is of a general nature and is not intended to address the specific circumstances of any individual or entity. In specific circumstances, the services of a professional should be sought. Tax information, if any, contained in this communication was not intended or written to be used by any person for the purpose of avoiding penalties, nor should such information be construed as an opinion upon which any person may rely. The intended recipients of this communication and any attachments are not subject to any limitation on the disclosure of the tax treatment or tax structure of any transaction or matter that is the subject of this communication and any attachments.