11.10.21
The IRS has just released the 2022 benefit plan limits and thresholds. Some items included in this release were announced earlier this year, including an increase to the annual HSA maximum contributions.
Notable changes include an increase to Healthcare Flexible Spending Account (FSA) maximum, an increase to the Healthcare FSA annual rollover allowance, as well as increases to Commuter Benefit monthly maximums.
Here's a look at some of the other important limits: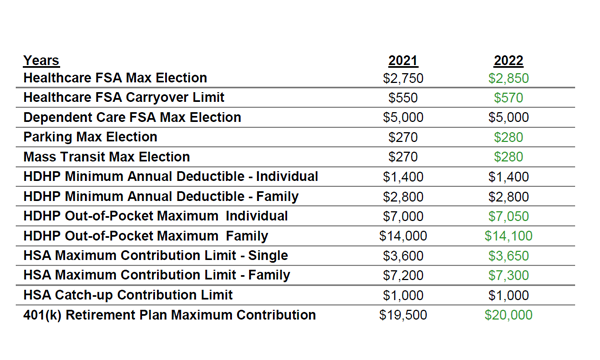 Administratively, the timing of the announcement represents a challenge for employers that have already completed their January 1, 2022 annual enrollment periods or are well into their enrollment efforts. Available options to explore include the following:
Modifying online systems to reflect the changes if print communications already have been released, and posting related update messaging on the page/site.
If the schedule allows for a post-enrollment change process, issuing confirmation statements that advise employees to adjust their election during the allotted change window.
When enrollment is open and where feasible, issuing email and text message blasts to employees informing them of the late change.
Issuing targeted post-enrollment communications to those who elected the old maximums ($2,750 and $270) before the change was implemented, then affording this targeted group an opportunity to increase their election to the new maximum before the start of the new plan year.
Staying the course for this upcoming plan year and adopting the new limits at the start of the next plan year.
To those still "planning the plan," these increases can be folded into your base communications, enrollment processes, and key open enrollment messaging. We have great resources available to assist in your communication strategy.
If you have questions about this update or need expert help, contact our team.
The information provided here is of a general nature and is not intended to address the specific circumstances of any individual or entity. In specific circumstances, the services of a professional should be sought. Tax information, if any, contained in this communication was not intended or written to be used by any person for the purpose of avoiding penalties, nor should such information be construed as an opinion upon which any person may rely. The intended recipients of this communication and any attachments are not subject to any limitation on the disclosure of the tax treatment or tax structure of any transaction or matter that is the subject of this communication and any attachments.